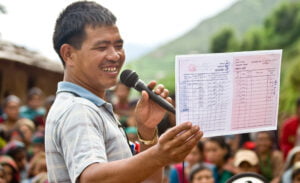 Raj Bahadur Gurung
(1976- February 2014)
Founding Chairman, and
Field Co-Ordinator
(2008-2014)
JVF-NEPAL
Raj Bahadur Gurung, one of the founding members of Jhumlawang Village Foundation (JVF-NEPAL), and Field Co-Ordinator tragically passed away on 6th February 2014 in a Bus Accident in Palpa, West Nepal.
Our Kathmandu Co-Ordinator Purna Magar and he was on their way to Butwal from Kathmandu to visit our 3 scholars who have been studying JTA- Animal Science & JTA-Plant Science.
We are saddened and devastated with this tragic news. We lost a Great Community Leader, one of the most dedicated members who have been working days and nights to make sure that we make our community an example on "Sustainable Based Development" in Nepal so that others can learn from us.
We pray with our ancestors and deities to offer his departed soul rest in eternal peace and give us strength to deal with this difficult time.
Our Kathmandu Co-ordinator Purna Magar was critically injured and now has been going through operation in Palpa Mission Hospital. We are praying for successful of his operation and speedy recovery!!!
Our prayers and thoughts are with all other families and communities who also lost their loved ones in this tragic accident and going through pains like we are.
6th February 2014