Jhumlawang, Rukum:
Dr Ryukichi Ishida is a very quiet person. He does not make noise and rarely makes you feel his presence. And yet, whenever he makes his way through villages of mid-Western region of Nepal every eyes and ears are tuned to his footsteps. People from other neighbouring villages also walk for days to the Health Centre/health camp he is stationed at a time in hopes of being checked by the 'Japani Dakdor' from Thawang.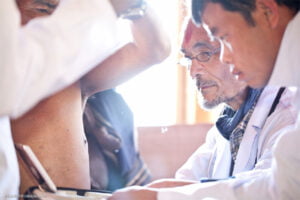 And their Japani Dakdor does not let them down. Unlike the 'modern doctors' of urban hospitals he is not only at their doorsteps but also charges not a penny for his services. In his aura of soft, gentle and caring personality the innocent village people seem to forget their usual 'terror' over the idea of seeing doctors or going to hospitals. His kind smile with slightly accented Nepali words 'k bhayo?', 'dukchha?', 'kaha dukchha?'- (What happened? Does it pain? Where does it pain?) -instantly encourages patients to tell their stories of misfortune.
A 67-years old Orthopaedist intently listens to their stories, patiently, as if he has the time of the world. Only once a while does he look for local assistant's interpretation. He uses few known Nepali words, sign languages and gestures to communicate with his patients. He doesn't only check the patients but also gives consultancy and tries to help as much as possible through his expertise and network. His effort is to make the treatment as much reachable and affordable as possible to these village people.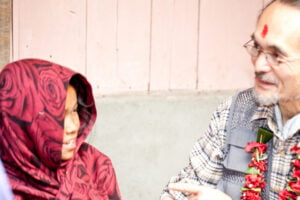 "There is a very huge health inequity between Nepal, India and Japan," a member of MSF (Médecins Sans Frontières – Doctors without Border) Dr Ishida says with concern, "Here; good health care is only focused on the wealthy people." He considers this situation as a new humanitarian crisis created by neo-liberalism and globalization.
It is to further understand this crisis that has led him to walk through the villages of mid-Western Nepal as a 'Medical Anthropology' researcher for CNAS (Centre for Nepal and Asian Studies) from his research base Thawang, Rolpa. His research topic "Integrative approach to the traditional healers and modern medical practices" focuses on finding ways to balance the health inequity prevalent in the country.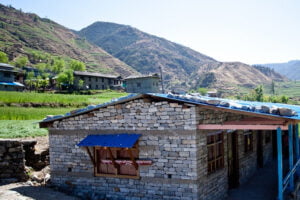 While pursuing his medical research, equally close observant of the social issues and situations, Kobe born Doctor Ishida says he is in a quest to find answers to the questions that have poked him throughout his life. The current one being "WHY and how to overcome these inequity?" other questions that had arose during his youth days continue to be unanswered. "The search continues," he smiles.
It was this nature of searching for answers that had him ended up in Nepal in 1968. A third year student in Kyoto University, at the age of 21, had packed his rucksack for a year-long journey of Asia, Europe and Russia; alone. His purpose was to experience the true life of Asian people and to find out answers to questions such as: What is the truth of Vietnam War? Is American campaign correct or the Viet-Congs? What is the problem between Japan and other Asian countries?
In his one year journey, he spent 6 months in India and Nepal. In India, he volunteered in Leprosy Centre of Agra. He was a part of traveling clinic for street lepers around Agra. "I was shocked by the reality," he shakes his head at the memory, "So much of street leper expelled from their villages."
After his voluntary in India, he came to Nepal. The mountainous country was not new for him. He was a member of mountaineering club of the University and had heard from his seniors.
At that time, tourism was not so common, especially in Western Nepal. So when he walked all the way from Pokhara, Beni Bazaar, Kali Gandaki to Tansen, he took shelter in the houses of local villagers; ate what they offered and slept on what they provided.
One day, he happened to stay in a house of an ex-Gurkha army. "He was probably a Magar, very old and he knew Japanese," Doctor Ishida remembers with smile, "He said he learned Japanese from a Japanese war prisoner who had become his friend during War".
Alone in an unknown place where no one spoke his language, finding a man who could speak his tongue gave him immense happiness. When he was leaving he wanted to pay for the homestay and food but the man would not accept. "This intimacy, kindness and friendliness towards a stranger touched my heart."
He also remembers his strange meeting with an eye patient while passing through Tansen Mission Hospital. The man had asked "Dabai Chha?" (Do you have medicine?) confusing young Ishida. After years, the Doctor is to learn what the person meant and be prompted to come back to Nepal.
It was in Nepal, during his journey, he met his mentor Dr Noboru Iwamura in Tansen Mission Hospital.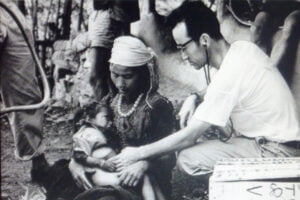 Dr Iwamura invited him to join on his BCG vaccination campaign in different villages around Tansen. Dr Ishida considers this meet as 'the happiest and luckiest one chance' where he learned how to approach to the reality of Nepal. In his 3 weeks of voluntary work with the prominent doctor he concludes, "I noticed the importance of traditional medicine."
Carrying these experiences and memories the young Ishida had continued his journey to other Asian countries such as Pakistan, Afghanistan, and to Europe to Russia to back home by hitch-hiking with hippies. After travelling through India and Nepal he had got confidence that he could survive anyway, anywhere. And it was in this journey he got the profound knowledge, "You see, a rich traveller does not know the reality of places he travels; a hitchhiker does."
It was this knowledge of the reality he had garnered during his hitchhiking days that beckoned him to Nepal after a gap of nearly 4 decades. In that gap, he had become one of the renowned Orthopaedist in the country, had worked for reputed private hospitals such as Kyoto-Minami Hospital and Ueda-Shimotanabe Hospital of Japan and had not only done orthopaedics surgery but also operations of the brain surgery, chest surgery, gynaecology, urology and so on.
As his experiences and expertise increased so his age. It was when he crossed 60 his urge for continuing his quest for answers left him sleepless. "I remembered medical practices in Nepal, the words of my mentor, the friendly village people and the question, 'Dabai chha?'" he adds, "And, I came back looking for answers."
So, when he came back in 2006, 37 years had passed. Nepal had changed. It had gone through different political phases and some social changes and yet the health inequity had increased further.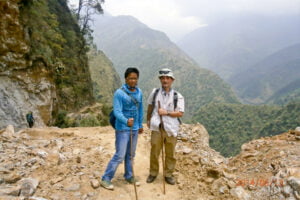 To understand the ground reality of changed Nepal he immediately started voluntary work in Tansen Mission Hospital in 2006, Rukum/Chaurjhari Hospital in 2007 and in 2009 headed the "Primary Trauma Care Research Caravan" from Jumla to Baglung. After this Caravan, regular visit to Rolpa, Thawang started. Currently, he is spending 6 months in Nepal, goes back Japan to collect funds and returns back to help those in need. This way, his second life in Nepal, began.
When he came to Nepal it was not that there were no medical activities by NGOs/INGOs. But, as per his understanding most of these activities have charity mind which is one type of empire mentality and mission activity is another kind of ruling system. Criticizing these activities he says "They do not support sustainable development as they have top-down approach." Western Medicine, alone, according to Dr Ishida, is not good activity for sustainability. To make it sustainable he states we should follow the mantra of Dr Iwamura, i.e. 'Sangai Jiunako Lagi' (to survive together).
"When I read Dr Iwamura, again, I realized, 'the huge hidden human resources are there in the society.' We must dig up them and integrate for the better result, making it sustainable." He does not hesitate to accept the fact that he had not known the positive side of traditional healers/traditional bone settlers (TBS), in past days, himself. He says he is surprised time and again when he finds these TBS better than that of Kathmandu's amateur doctors. "I look at them do their job and think 'Oh! They have good skill!' from time to time."
He is now in contact with the TBSs of Dang, Salyan, Rukum and Rolpa whose knowledge have further strengthened his belief in utmost necessity of fusing these traditional and modern knowledge of medicine and practices.
In the present reality of Nepal where doctors do not want to come to rural parts of the country Dr Ishida feels it is basically necessary to integrate Western medicine and traditional medicinal practices for better outcome. "Without them in the picture sustainable development is impossible."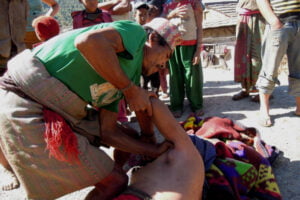 Government of Nepal has unfortunately banned some traditional practices. There is an urgent need for Government policy to integrate them; taking the positive knowledge and skill from traditional healers while discouraging some negative practices. Else the knowledge is likely to disappear without being transferred to the new generation. "The traditional knowledge of these TBS can be taken as national dignity," Dr Ishida strongly states "Nepal has important cultures within medicine." As it is not influenced from colonial empire but of independent thinking and practice he believes it can be a national property, pride and traditional heritage as is in Japan.
At the same time, while speaking of integration, Dr Ishida feels that medicinal issues should not be looked separately from social issues. "Social issues and medical issues must be connected because medical issues cannot be solved without social change," he emphasizes on fusing them for a healthy society.
For the creation of healthy society, not only physically but also psychologically, socio-culturally and economically, he states unity is a must among people. As he has observed for years, for rural development projects in the region different ideologies are prohibiting unity. Meanwhile, there is 'refugee' diaspora mind and local diaspora mind which conflict in the approaches to the development. "These things need to be overcome," he says.
As he observes, gives his medicinal services for free while doing his research, helps financially to those who are in need and has almost gone native with his preference to dhido and 'alikati raksi'; has he found answers to his questions? 'Not yet," he says, "These are continuous questions." So, he says it will continue forever, throughout his second life, as he declares. So, how has his second life been going? "Till now, it has been interesting and very pleasant."
-Smita Magar,
6th July 2014